Park St Residence in Merewether reaches practical completion May 2013
The Park St Residence has reached practical completion and Director Paul Brace was invited to an milestone celebration by clients Chris & Kellie. They've very happy with the project; which is a JV with Jason Elsley of Derive Design in Newcastle and has taken three years or so to reach this stage. We took the opportunity to photograph the project with Photographer Sharrin Rees on the weekend prior to landscaping and furnishing going in. Images will be in shortly, these are my Iphone snaps on the day!
Park St House Merewether nears completion March 2013
This new family home in Merewether nears completion in March of 2012. Built from precast concrete and teak the house is based on the Malibu costal tradition created by mid century american architect Gwathemy Siegel.
Carrington Recreation Centre nears completion March 2013
The Carrington Recreation Centre for the Carrington Centennial Care Group's Camden facility nears completion in March 2013.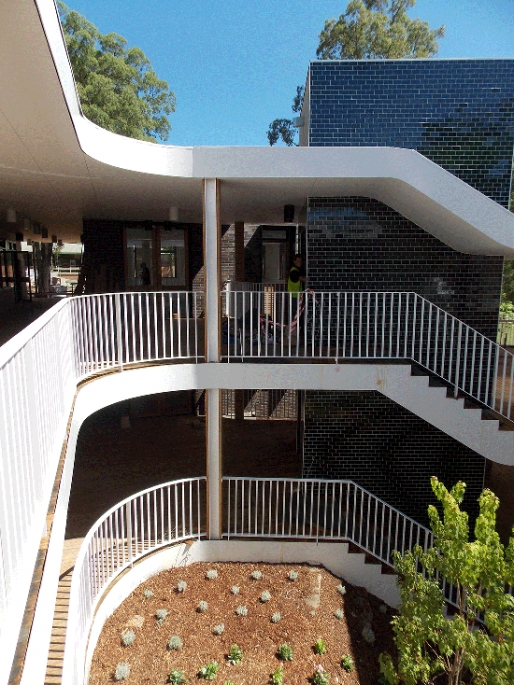 Emergency Shelter Brisbane 2012 July 2012
Jackson Teece was proud to be invited by the organisers of the Emergency Shelter Exhibition to participate in their Brisbane 2012 showcase of creative solutions to emergency housing.
The exhibition is to propose shelters that could not only protect people from the rain and other elements in emergency situations but also provide a space to feel secure and comfortable in a disastrous environment, which is fundamental to the recovery process.
Follow the link below to the project details and a video which shows our creative solution to the brief, together with the construction and erection of the shelter at Brisbane's King George Square in July of 2012
39 Hunter Street wins Property Council of Australia 2012 Innovation and Excellence Award for Best Heritage and Adaptive Reuse May 2012
2012 Design Institute of Australia Design Awards April 2012
Director Paul Brace was honored this year by being a jury member together with 7 industry peers on the Design Institute of Australia's 2012 Australian Interior Design Awards jury panel.
The awards, Australia's leading Interiors Design accolades were judged over a two day period in Melbourne on the 1st & 2nd of March. Hosted by construction company ISIS the panels jurors reviewed over 600 projects across a range of categories and involving much debate and deliberation of entries.
The awards night, held on the 27th April 2012 at Sydney's Doltone House was a great celebration of Australian Design with many winners and commendations.
Full details can bb found at the DIA awards website
Southpoint wins Suncorp Bid November 2011
Suncorp has selected the Southpoint commercial project in Brisbane's South Bank to house 3,000 of their Birsbane staff. Designed by Jackson Teece for the Anthony John Group and to be delivered by Brookfield Multiplex the project is a 48,000 sqm commercial building whithin which Suncorp will lease 30,000sqm. Stage two of the project will include a 20 storey apartment and hotel complex.
Taronga Chimpanzee Exhibit wins 2011 Master Builders Association Award November 2011
Jackson Teece would like to congratulate Lipman; builders of the Taronga Zoo Chimpanzee Enclosure, for their success in winning the 2011 MBA Excellence in Construction Awards for Public Buildings $5 - $10 Million.
Surry Hills Residence 2 Publication in Houses Magazine September 2011
Surry Hills Residence 2 is published this month in Houses Magazine Issue 82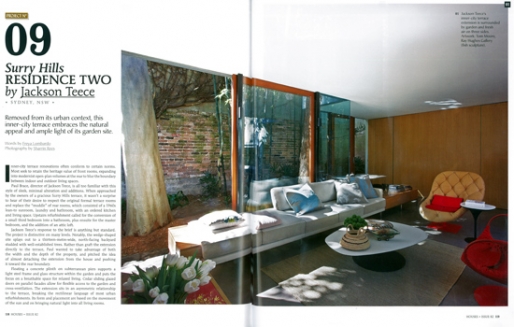 Scott St Apartments wins QLD AIA Residential Architecture Award 2011
Last friday night at the 2011 Queensland Architecture Awards held at the Plaza Ballroom, Brisbane Convention & Exhibition Centre, Jackson Teece were the proud recipients of the Job & Froud Award for Residential Architecture for our project Scott St Apartments.
Scott St Apartments published in AR June 2011 issue June 2011
New Sydney Office June 2011
Jackson Teece Sydney announces our move to an exciting new office location at Walsh Bay in Sydney's creative arts precinct from the 20th June 2011.
Please adjust your contact records to reflect our new details. We look forward to welcoming you to our new office.
NSW Heritage Council Newsletter Autumn 2011 May 2011
Brisbane Regional Architecture Awards May 2011
On Friday night - 06 / 05 / 2011, Damian Barker, Paul Brace, Andrew Tesoriero & Dan Hudson of Jackson Teece were the recipients of two commendations from the AIA jury for the Brisbane Regional Architecture awards for the project Scott St Apartments. In selecting the project the jury comments stated:
Brisbane Regional Architecture Awards Regional Commendations presented to:
ART AND ARCHITECTURE
Scott Street Apartments - "Melaleuca", Kangaroo Point, by Jackson Teece Architecture
The concept has delivered an integrated and strongly expressed eastern elevation art wall that works as a streetscape element, sunscreen, privacy screen and interior form maker for these top end residences. The cast concrete forms are carefully considered to minimise the mass of the material and reflect the natural river edge conditions of the mangroves that form part of the nearby precinct. The final product belies the mass and scale of the idea.
RESIDENTIAL ARCHITECTURE – MULTIPLE HOUSING
Scott Street Apartments, Kangaroo Point, by Jackson Teece Architecture
A beautifully crafted response to a luxury apartment development on a prominent inner city site. This strong visual statement responds appropriately to the urban context and issues of western aspect, traffic noise and adjacent heritage structures which have been carefully considered. Subtle and elegant detailing and construction quality of the highest order complete the picture
Congratulatons to the project team and we offer many thanks to our clients Mike & Jonathan Kavali of Waterford Properties for commissioning Jackson Teece for this fabulous project.
Brisbane Times February 2011
Jackson Teece has commenced detailed design for the central mixed-use precinct of the East Village development by the Anthony John Group located at Cannon Hill in Brisbane's eastern suburbs. The development will provide a hub for the suburb and surrounding areas introducing commercial, residential, retail and leisure facilities such as a gym, hotel and cinema complex along with a cafe precinct fringed by public open space.